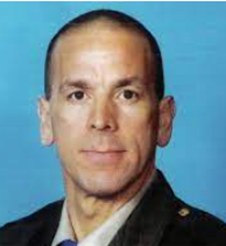 He died in the line of duty fifteen years ago today. CHP Officer Russell was struck and killed while deploying spike strips to stop a fleeing suspect.

The pursuit began in Rancho Cordova after a suspect intentionally swerved at an oncoming patrol vehicle being driven by a Sacramento County Sheriff's Office deputy. As the pursuit approached El Dorado Hills Boulevard on Highway 50, the suspect intentionally swerved at a CHP officer; forcing him to run up an embankment to avoid being struck. When the suspect came upon Officer Russell deploying a spike strip from the median, the suspect intentionally swerved off the roadway and accelerated into him. The suspect then sped away until he was ultimately stopped by other law enforcement officers.

Please join us in taking a moment to remember Officer Russell's sacrifice of giving his life in the protection of others.