PRESS RELEASE
Known only as Jane Doe for four decades, Rebecca Dinkel is finally returned to her family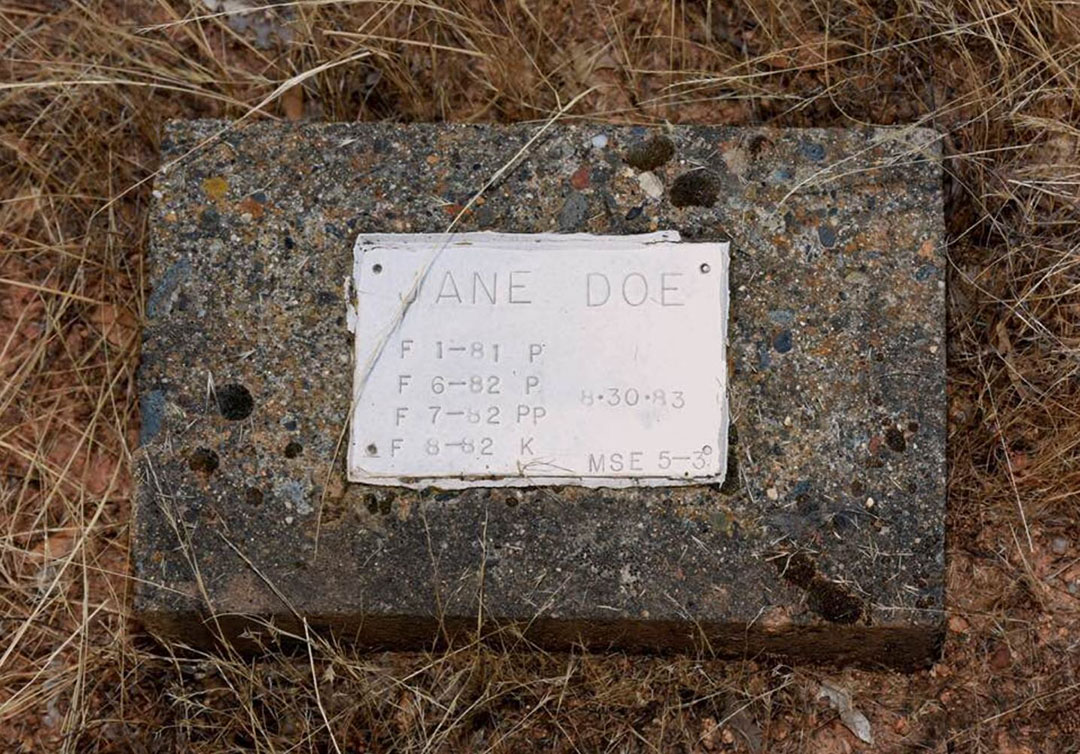 In 1974, thirty-seven-year-old Nancy Webster was at a cafe with her nineteen-year-old daughter, Rebecca Dinkel, in the Garden Valley area of El Dorado County. The mother and daughter left the cafe shortly after Nancy received a threatening phone call from her abusive, live-in boyfriend, Clifton Mahaney. Neither woman was ever seen again. Rebecca left behind two small children; two-year-old Brion and six-month-old Clinton.

Despite no bodies ever being found of the mother or daughter, the El Dorado County Sheriff's Office was able to put together sufficient evidence for the District Attorney's Office to prosecute Clifton Mahaney for the murders. Following a four-week trial and five days of deliberation, on December 8, 1974, the jury found Mahaney guilty of voluntary manslaughter. Mahaney was ultimately sentenced to 10 years in prison on January 10, 1975.

Then, in 1981, a human skull with an apparent gunshot wound was discovered by hikers in the Rock Creek Road area of El Dorado County. While the Sheriff's Office suspected the skull might belong to Nancy or Rebecca; neither woman had any dental records on file and DNA science was in its infancy so no conclusive connection to the victims could be made.

After serving his sentence, Mahaney passed away in 2002. Mahaney never admitted to the murders or identified the location of the bodies, thus robbing Rebecca's sons of any possible resolution to the mystery of their mother's disappearance. Mahaney's death seemed to mark the end of any possible answers surrounding the tragedy.

In 2017, the El Dorado County Cold Case Task Force, working in conjunction with the El Dorado County Sheriff's Coroner's Detectives, graduate students from Chico State University's Forensic Anthropology Department, and criminalists from the California Department of Justice's Richmond Lab, made a breakthrough. The human skull that had once been a dead-end now had the potential to unravel the 43 year old question of what had happened to Nancy and Rebecca.

The Richmond DNA Lab was able to recover a partial DNA sample from one of the molars still attached to the skull. A Cold Case search led detectives back to Nancy and Rebecca. Detectives from the El Dorado County Cold Case Task Force identified Rebecca's biological sons, Clinton and Brion, now grown men, and reached out to them for help. Both Clinton and Brion provided DNA samples that were then tested against the sample recovered from the skull. It matched; revealing that the remains did belong to Rebecca Dinkel.

As is so often the case when victims simply disappear, the greatest agony for the family can be that they never really know what happened to their loved one. For Rebecca's boys, who were never actually told about their mother's disappearance, at least that question has been answered. "Not having a mother left a huge hole in my heart," Brion told District Attorney Chief Investigator, Jeff Dreher. "Knowing you were able to identify my mom and return her to us gave me closure that she wasn't alive somewhere in the world."

Law Enforcement's job does not end with the capture and prosecution of the murderer; rather it continues with the men and women who work tirelessly, sometimes for decades, to provide what peace and resolution they can to the families of victims. As El Dorado County District Attorney Vern Pierson stated, "The family and friends of the victim never forget and neither should we."

In this case, advancements in DNA science and the dogged determination of law enforcement led to closure for Rebecca's sons when the El Dorado County District Attorney's Victim-Witness Unit, along with the El Dorado County Coroner's Section, were finally able to return Rebecca's remains to her family. Clinton extended his gratitude, saying, "I want to thank the investigators and all the people who continued working on my mother's case to bring some closure to me and my brother." And closure, after decades of wondering, is no small thing.