Deputy DA Jamie Pesce receives inaugural award for excellence
Posted: March 12, 2018
District Attorney Vern Pierson proudly stated, "Deputy District Attorney Jamie Pesce is an incredibly talented, professional, and hard-working prosecutor, who is respected by the bench as well as her peers. When we moved to our new office this year, Jamie was chosen to be one of the inaugural recipients of our new Recognition of Excellence award. This award was created in order not only to show appreciation to those in our office who excel at what they do, but to publicly commend those who set the very high standard of what we hope others will strive for in our office. The citizens of El Dorado County are incredibly fortunate, as am I, to have such an outstanding advocate for justice as part of our team here at the District Attorney's Office."

Full story HERE
Deputy DA Jamie Pesce receives inaugural award for excellence
By Pat Lakey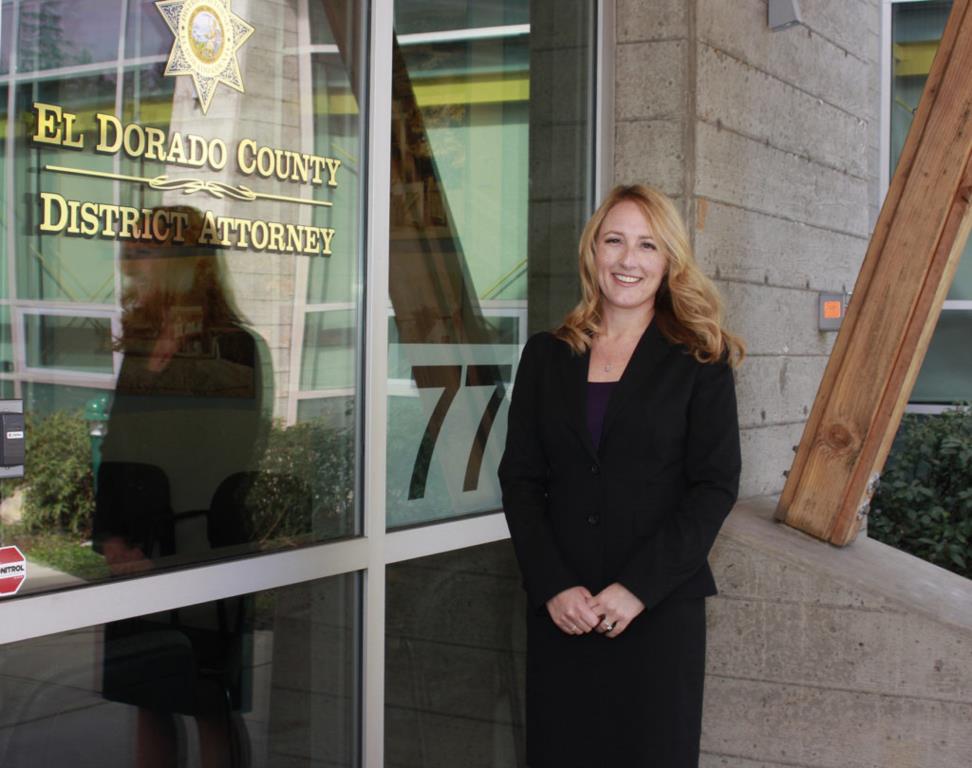 She's blessed with cheerleader good looks and has the personality to go along with it - El Dorado County deputy district attorney Jamie Pesce is the real deal, the absolute personification of the All-American, wholesome soul one would hope would be on the side of the people in the fight for justice.
If you don't believe that her sweet-but-tough image is for real, ask her about why she decided to become a lawyer for the county, fighting crime and trying to exact justice for victims.
"I know how this is going to sound, a little corny," said the sandy-haired, smiling woman as she sat in her office at the new DA's facility on Pacific Street in Placerville. "I used to watch 'Matlock' as a kid and I knew one day while watching TV that that's what I wanted to do.
"It just looked like the best job ever - to do the right thing."
Matlock, the folksy old fellow whose clients were always innocent, always on the side of the angels. The country lawyer was played by the late Andy Griffith.
No one could make this up.
Battle for right
Pesce's blush as she explains she truly does want to do battle with the bad guys and right the wrongs of society makes her words ring true, despite the tendency in this day and age to doubt anyone could be that pure of motive.
That refreshing, almost innocent approach to upholding the law probably is one of the reasons that District Attorney Vern Pierson selected Pesce to receive the inaugural Recognition of Excellence award, created in honor of another staffer, the late Katie Dobler who was a star of the DA's Office prior to her untimely passing in February last year.
Dobler, 35 when she died, incidentally was Pesce's best friend after the two met at the DA's Office in Placerville, said Jamie, who also met her future husband Richard Pesce at work. Richard is an investigator for the DA's Office and key player in bringing drone technology to its bag of crime-fighting tools.
Likely Richard would agree with Pierson, however, that the woman he married three years ago is one of the the sharpest in the DA's arsenal against crime.
A real passion
Hired by former DA Gary Lacy in 2005, then Jamie Verwayen quickly became known for her no-nonsense courtroom style and intellect. Her passion for righting wrongs is evident as she presents complete, precise cases that successfully exact as much as possible of what Lady Justice dishes out.
A solid brass statue of that very lady sits in Jamie Pesce's office, as a matter of fact, a statue that once belonged to Katie Dobler.
"That was Katie's," smiled Jamie as she noticed her visitors admiring the brass piece. "She was a wonderful woman who had so much passion for justice - and life.
"She lived life to the fullest."
Dobler no doubt would have applauded her friend's recent triumphs in getting justice for victims, including a case in South Lake Tahoe where an exchange student from Macedonia who had been in this country for only a week was kidnapped and sexually assaulted. The horror occurred after the perpetrator grabbed the young woman from in front of her motel room, forced her into a darkened corner of a nearby parking lot and sexually assaulted the victim.
Jamie Pesce smiles as she reflects that the sentence for Manuel Ovidio Ramos-Munoz, the man she succeeded in convicting, was 183 years in prison, handed down just this past January.
Another victory in which the defendant was sentenced to 248 years to life involved a child molester, Eric Lee Hatfield, a sexual predator who was ordered to prison in January of 2017.
Jamie Pesce also helped prosecute David Zanon, who was sentenced to death for the slaying of California Highway Patrolman Douglas Scott Russell in July of 2007. Zanon deliberately aimed his stolen car at Russell as the lawman was laying spike strips in an effort to stop the fleeing suspect. Work by the DA's team that included Jamie and her future husband Richard was recognized for its successful prosecution of the drug-addled Zanon.
Jamie Pesce also recalls a victory that can't be quantified merely by numbers but by a more human anecdote. Her eyes softened as she told about how a young woman who was molested as a child, victimized by a family member, was subdued and timid as the deputy DA attempted to get her story and help her find the courage to take the stand to testify against her grandpa. Some family members of the girl had sided with the suspect, making the situation even more untenable, Jamie recalled.
"Her hair would hang down in front of her face, so you could hardly even see her," the prosecutor recalled. Pesce's handling of the victim and prosecution of the suspect was successful and the man was sent to prison for several years. The next time Jamie saw the young lady, some two years later, she could hardly believe her eyes.
"Her hair was out of her face as she came running down the sidewalk, calling my name," said Jamie. "She gave me a hug and she had a big, old smile on her face."
Probably about the size of that of her hero.
Started on the defense
Perhaps surprisingly, Jamie Veater Verwayen Pesce, who was born at Marshall Hospital and has deep roots in El Dorado County including her grandparents' ranch in Pleasant Valley, began her career as a defense lawyer, working for 10 months in El Dorado Hills with Adam Weiner and the whole Weiner family of legal aces.
Asked how she liked being on "the other side" of the law, the former Ponderosa High School cheerleader's answer was perhaps predictable: "Sometimes the accused is innocent and sometimes they just made a mistake."
Before one begins thinking this person is maybe just a bit too good, too naive to go up against the biggest and baddest of the bad boys - take a long look into her eyes. Don't be fooled by the package, with the long, smooth hair framing the face of the girl next door who always gets good grades.
Just beneath the surface you'll find a simmering heat, the smoldering desire of a champion for justice who, even though she sometimes blushes, has one goal: "I want to someday become a Superior Court judge so that I can continue the fight for what's right," said Jamie Pesce.
Sounding quite a lot like something Ben Matlock would say.